Aqua Treat - Treatment cum Storage System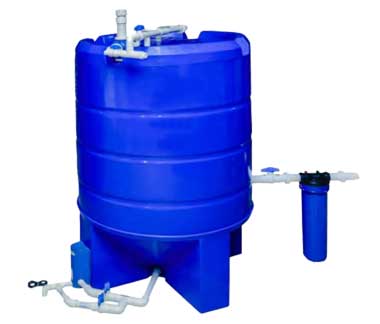 Poluchem's sister concern  AquaTreat India has developed and patented an award-winning unique "Residential Water Treatment cum Storage System" named Aqua Treat RWTS. This RWTS system consists of a specially designed Hopper bottom water tank with Cyclonic inlet water distributor, Chlorine diffuser, Activated carbon cum 5-micron filter, and an auto Drain valve.  

The specially designed Hopper bottom water tank eliminates the majority of the impurities in drinking water like  Iron, Manganese, Silica, Suspended solids, mud, grit, colour, turbidity, etc to conform to IS: 10500. This uniquely designed Water Distribution System to produce the Cyclone Effect in the circular water tank for efficient settling of suspended solids at the hopper bottom and to reduce the flow rate of inlet water for avoiding turbulence at the settling zone. The Unique invention of Hopper Bottom Settling Zone at an angle of 60 degrees for efficient settling of suspended solids in the water and easy draining out of settled solids on the cleaning of the water tank by operating the drain valve. Specially designed inbuilt system for  Chlorination in specified controlled rate using Chlorine cartridge for disinfection to eliminate microorganisms like E Coli and Coliforms and for iron and manganese removal by oxidation and settling method.
Recognitions
This design has been selected by Dept of Science and Technology-Govt. of India, All India council for Technical Education (AICTE) and Confederation of Indian Industries(CII) as one among the top 16 inventions in India.

Tata Social Enterprise Challenge conducted by Tata Trust and Indian Institute of Management- Kolkata selected this innovation as one among the top 20 in India.

United Nations Industrial Development Organization (UNIDO) has provided opportunity for market access in developing and undeveloped countries for the upliftment of rural people.

20 designs has been registered and 3 Patents are pending as intellectual property in the field of water treatment.
Design Registration No(s): 274788 (24-08-2015), 274789 (24-08-2015), 279316 (11-012016), 296719 (16-08-2017), 310476 (29-09-2018), 279665 (21-01-2016), 296718 (16-08-2017), 296722 (16-08-2017), 296721 (16-08-2017), 307661 (12-07-2018), 310758 (09-10-2018), 310759 (09-10-2018), 310760 (09-10-2018), 310971 (13-10-2018),
Patent Apln. No: 2017 41017459 (18-05-2017), 2018 41027543 A (27-07-2018)
Advantages of Aqua Treat RWTS
Remove Suspended solids, mud  and sludge.
Remove Iron, Manganese, silica, and turbidity.
Prevents the formation of anaerobic sludge.
Eliminate the possibility of pathogen formation.
Economic and affordable to the common man.
Provides safe potable water throughout the building.
Easy to operate and only a little water is drained out with settled solids.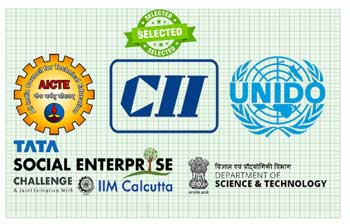 If you are interested to know more about this technolog and product, or interested to buy, sell  or market (dealership) this product, please call 8281 98 2322 or mail to consultancy@poluchem.com