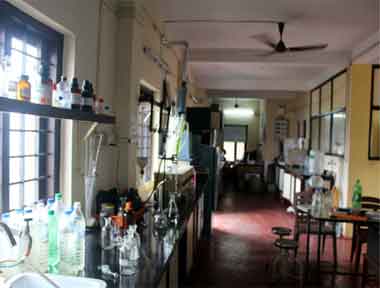 Poluchem Laboratories (P) Ltd was established in 1993 and approved by Kerala State Pollution control board as A Grade Laboratory. We are accredited since 2007 as per ISO/IEC 17025:2005 by the National Accreditation Board for Testing and Calibration Laboratories (NABL), Dept. of Science and Technology, Govt. of India.
Our lab is fully equipped with modern analytical instruments and able to analyse the samples of drinking water, rivers, lakes, wells, wastewater & effluents, solid wastes, gaseous emissions and other relevant parameters. In addition to that we have facilities to Monitoring of stacks, ambient air, sound level, light intensity etc. We also carry out regular monitoring of the ETP & STP and Environmental Impact Assessments (EIA) for project studies and approval.


We are serving more than 500 clients all around Kerala which includes Major Chemical Industries, Medium and small scale manufacturing units, Hospitals and Hotels. Read more...

Team and Team Leader Our director, Sri. K.P. George, Retired Chief Environmental Engineer of Kerala State Pollution Control Board (KSPCB), have more than 26 years in all areas of Environmental Engineering wtih KSPCB. Sri. K.P. George is basically a chemical engineer with post-graduate diploma in Environmental Pollution Control Engineering and Master's degree in Public Health Engineering. He started his career with the Board as Assistant Engineer. He had also higher training in foreign countries like Japan, UK etc. apart from various trainings within and outside the state. Under his able leadership, the Poluchem, a team of Biotechnologists, Chemists, Environmental Auditors, Chemical and Civil Engineers giving an excellence service to our clients and become one of the leading environmental consultants in the state today and we are executing many sewage and effluent treatment plants.